Dear Jonas and app owners,
Again, thank you so much for your comment on Product Hunt! So far we are having an amazing day! It's a pleasure to bring you and any other app owner some great insights on how apps, such as Yood, can use HOKO smart links to build amazing UX!
So, we've taken the time to look into Yood (which btw looks really cool - just found a new Thai restaurant to eat today!), and we already have some ideas about how you can use our smart links to drive current and new users to your app:
Driving new installs - All your online campaigns should come with a smart link that will send new users to download your app - but to the app if it's already installed to re-engage them. With our deferred deep linking technology, you can create a personalized welcome experience, creating a contextual link between the reason that drove the install and the first welcome the user receives.
Re-engaging current users - Use our smart links to trigger actions, such as navigating directly from any channel (Whatsapp, Messenger, SMS, emails) to a particular restaurant within your app. Your users could even re-order their last meal, directly from a newsletter or push notification.
Set up a great referral system - leverage on your current user base to make referrals in exchange for a discount on their next meal. The new users can also be incentivized with a discount for the install. No need for codes, our smart links can handle it all - and you can share them on any channel and device.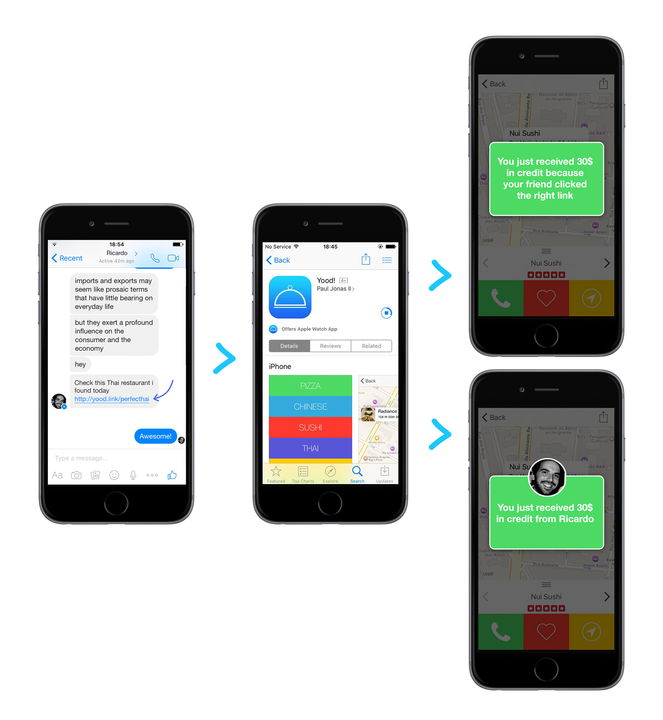 We can always work together on new and different ideas. Our team will be super happy to help you out for an easy integration.
Please feel free to reach me out at [email protected]
Cheers!