What is mobile deep linking?
In the previous mobile deep linking 101 post, we talked about the pain of web links in the mobile environment and deep links, which bring users into a specific place or action within a native app. We used an imaginary newsletter as an example to talk about how deep links can contribute to a seamless mobile experience for your app.
Now, we will give you a few more ideas on how deep linking can help your app, but keep in mind that the technology has a much broader area of use.
How to use it?
We've created the easy to use HOKO deep linking platform to give apps the ultimate tool for interacting with their users and gathering user insights. The following examples will show a few ways to unlock your growth potential with the most advanced deep linking technology available. But let me tell you, only our imagination limits the realm of possibilities with deep linking.
1. Give better first experience for users
A great use of smart links is to direct new users from any channel right into your app. You can drive app installs from any source - web, emails, ads, you name it – and make the first in-app experience super convenient for the new users by landing them on a personalized screen instead of a general one. How?
HOKO smart links are deferred deep links, which means that they store user information. This enables you to take users directly to that part of your app that they are interested in, even if the app has to be installed first in the App Store. If a user arrived at your travel app after clicking on your ad offering a deal to San Francisco, then it's a rightful expectation to see more about this deal upon launching the app. Give the users what they want!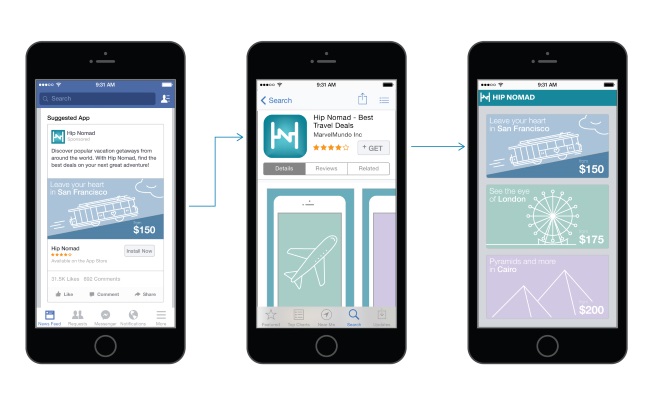 Personalizing the first app experience delivers a better user experience and reduces the friction of onboarding, so more users will activate and grow into high lifetime value users for your app.
2. Keep user engagement high
The focus of app marketing is shifting from app installs towards app engagement what makes deep linking even more powerful for mobile developers. Since the majority of emails and social channels are read on mobile devices, directing users to a specific part of your app makes every promotional tool more powerful. You can embed a call to action into the newsletter, for instance, "buy this product", and insert a smart link to it that adds the product to your app's cart with a single click - directly from the newsletter!
One of our earliest clients is Gleam, a fashion discovery app that helps users to find the hottest fashion trends of the season, handpicked from their favorite global brands. Continuous engagement is at the core of Gleam's function, that's why it keeps its user base updated on the hottest fashion items through regular newsletters. To maximize the emails' effectiveness, every item in the emails contains a HOKO smart link that leads to the item within the Gleam app when clicked upon from a smartphone – but on a desktop computer, Gleam's mobile site will be the destination. This integration drove the email links' CTR and the Gleam app's engagement level to the sky.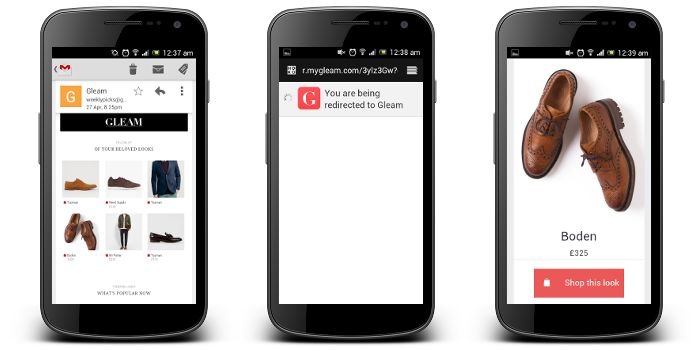 You can make any channel into an app engagement tool with deep linking, as it enables personalization, direct call to action, and seamless mobile experience without sacrificing desktop usability.
3. Go viral!
With deep linking, you can empower your users to share your app's content –an article within a news app, a purchase from an e-commerce app or a high score in a game – everywhere, or give personal invites to others. This feature unlocks a viral growth opportunity for any app that cannot be reached otherwise.
Last year, Airbnb launched its new referral program, which, given the inherently social nature of Airbnb, offered a huge opportunity. The core of the referral system is that both the member and referral would get $25 toward travel if the referral redeemed the offer. Basic stuff, you could say, but there is a twist: the referred user's onboarding is highly personalized and flows seamlessly among platforms – including the apps. The result was a new system, in which the existing member would share a URL that would direct the referral to a personalized landing page –inside the Airbnb app, on mobile, after downloading it.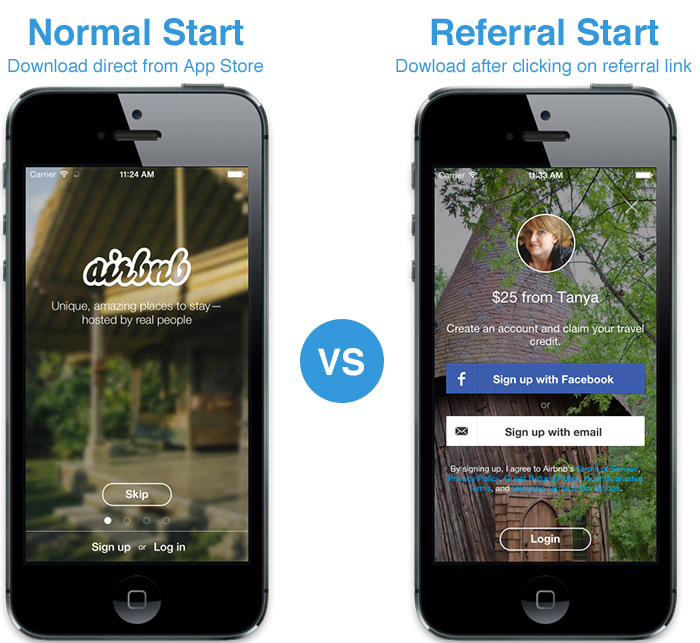 Deep linking helps in creating a viral referral system that embraces personal connections and matches the experience of new visitors to their intent. As the company's blog revealed, Airbnb increased the program's user signups and bookings by over 300% with this update.
Give it a try
If you want to give a try, we won't ask for any money or credit card details. Register here for HOKO, make your app deep-link-ready in 20 minutes and enjoy the results!


If you would like to add something to this post, please tweet to @hokolinks with the hashtag #deeplinking101!